(Last Updated On: November 4, 2023)
Are you feeling overburdened by the chore of organizing your small playroom? When it comes to coming up with creative ideas for playroom organizing in minimal space, a lot of parents are in a similar situation. Your child deserves a peaceful and tranquil place to spend time accomplishing what they enjoy, whether they choose to work on crafts, play pretend, dress up, or read.
A closet or an uncomfortable nook can easily be transformed into a kid-friendly playground that sparks their imagination, even though a garage, attic, or spare bedroom is the ideal location to set up a playroom. We've compiled some creative DIY playroom ideas for small spaces to assist you in fulfilling your children's ambitions.
Best Playroom Ideas for 10 Year Olds
Check below the fantastic 10 DIY playroom ideas
See how these below mentioned ideas for making the most of storage space, designating play areas, setting up a simple cleanup procedure, and adding whimsical décor can turn any place into a fantastical kingdom.
1. Paint your kid's playroom with bright hues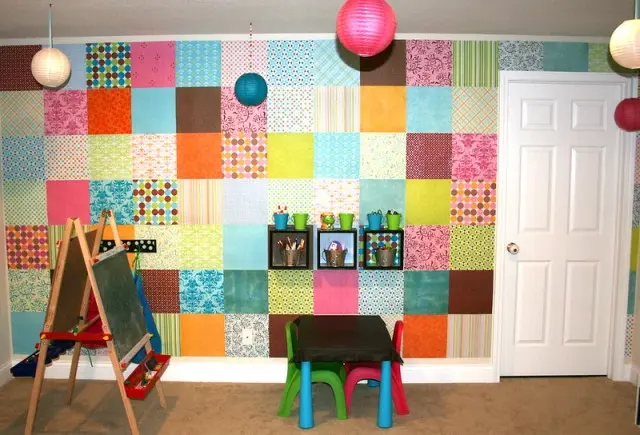 When creating a kid-friendly creative area; color is essential. For an attractive accent wall, paint the walls their favorite colors, a theme centered around undersea life, or a hand-drawn image. For those wishing to design a modern playroom or who aren't quite ready to commit to using strong colors, neutral hues are also a terrific option. All you need to do to make a statement is add some color with vibrant pillows or rugs.
You can also start with a neutral basis for a playroom hue scheme that will develop with your little one. You can give the space a subtle texture with the gray brick layout of peel-and-stick wallpaper. You can add a grass rug and a coral sofa to stand out against the subdued background. Simply replace the wall art and throw cushions when your children's interests evolve to give your residence a color scheme and fresh new style.
2. Decorate with wall stickers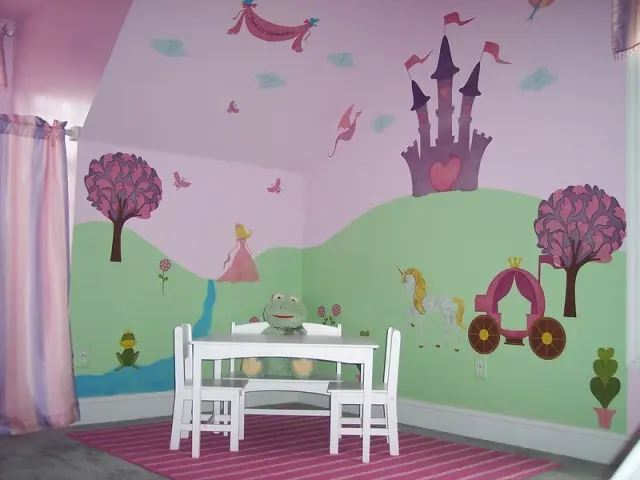 Children's styles, activities, and interests typically shift with new discoveries and age. When parents want to build a stylish area for their child's playroom without committing to a particular theme or wall color, stick-on wall decals are the ideal option. Incorporate a splash of color into your child's play area with temporary wallpaper, which comes in an array of designs and hues.
A focal point that will grab attention and inspire creative thinking is crucial to consider when designing a playroom. A vibrant wall decal or piece of art featuring animals or natural scenery can be a good addition, depending on your child's preferences. For a sense of connection, you may hang framed pictures of family members and distant friends even when they aren't around.
3. Show kids artwork
Are you trying to find a way to showcase your kids' artwork? It's a great idea to decorate your child's playroom with their artwork and to display their creations by hanging them up. As your little artist produces new works of art, you can simply hang and replace the artwork with this creative solution. A few frames will hold the images in place, and you can also attach them to the wall using nails or hooks. A more affordable option would be to display fresh photos on a wire laundry line fastened with thumbtacks or a wooden hanger. Beneath a bench, baskets provide convenient access to toys and favored games and facilitate tidying up after playtime.
4. Window seat in playroom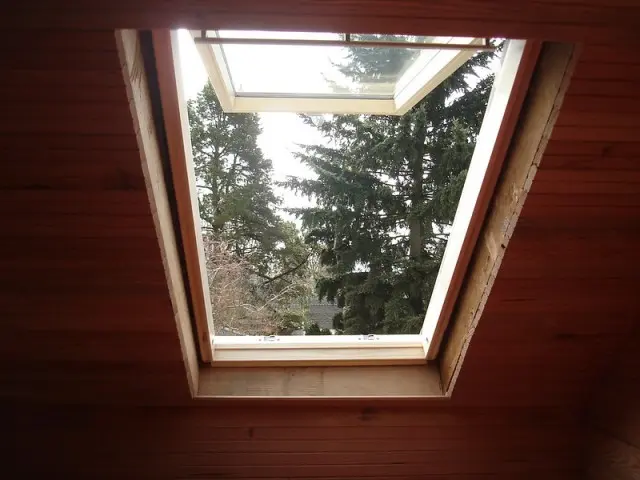 In order to organize a specific shelf division for kids, you can utilize the angled ceiling in your kid's playroom. Top shelves display keepsakes, and fragile treasures will overlook the play area, while lower baskets with easy-to-reach contents include a range of playthings. You can create an ideal reading corner by window seat with a comfortable cushion, wall sconces, and a cordless shade.
5. Playroom storage
With this playroom furnishings scheme, you can conceal even the worst disasters. You'll maintain a secure and tidy environment while having a place for stuff that doesn't always fit in storage compartments. Organize craft supplies like board games, cards, construction paper, and other items by storing them in playroom cabinets.
Combine open and closed storage to lessen mess in your kid's playroom. Keep your kids' books and stuffed animals on the open racks above a built-in bookcase with drawers and base cabinets that can hide art supplies and large toys. A surface for drawing or play is provided by a countertop that protrudes from the built-ins. You can also use baskets for storing stuffed animals, building blocks, and other little items that don't fit on drawers or shelves. Give each basket a tag so that children will know where to keep it after playtime ends.
You can also seek out multipurpose pieces of furniture, such as an ottoman with internal storage or a daybed with drawers underside. You'll have more alternatives for storage in addition to more seating with these components.
6. Attic playroom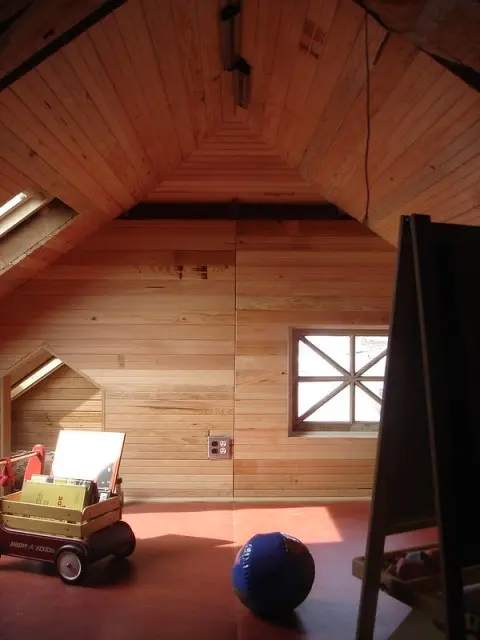 In attic areas, architecture is challenging because of sloped ceilings, exposed support beams, low windows, and pipes. With an integrated bench serving as seating and storage, this kids' playroom concept uses the uncomfortable shape already there. Child safety is ensured by low-profile furnishings, eliminating the need for kids to bend down to avoid sloped walls.
7. Manageable playroom nook
Your child's playroom can be created with just a small amount of empty wall space. Just bring in your workstation and a small bookshelf, then fill it with your kid's preferred toys. This tiny playroom encourages kids to play and dream because of an unexpected combination of bright patterns and colors. You could also use the rug's broad blue stripes, which are mirrored in the navy clovers on an accent wall. A complimentary color palette should be created, and attention will be added with playful orange pops.
8. Hang items on hooks for pegboards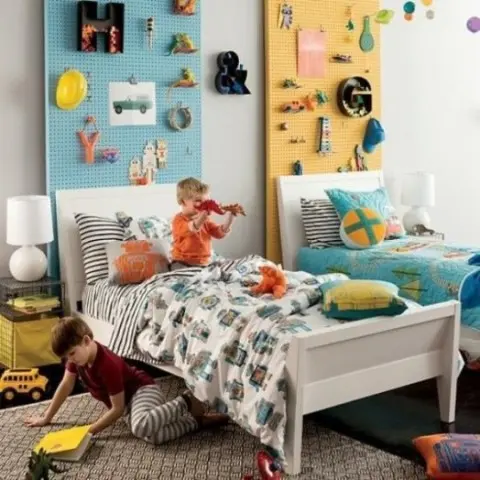 To make your drawer space further and maintain organization at the same time, you can hang light items like pegboards or dress-up garments from wall-mounted hooks. You may optimize your storage area without compromising style by heeding this straightforward advice. Make the most of the storage space to keep your kid's playroom orderly. You may make the most of wall space by selecting the appropriate containers, baskets, and furniture. Making a special play space for your kids is now necessary when you've figured out your storage options.
9. Add soft seating choices for comfort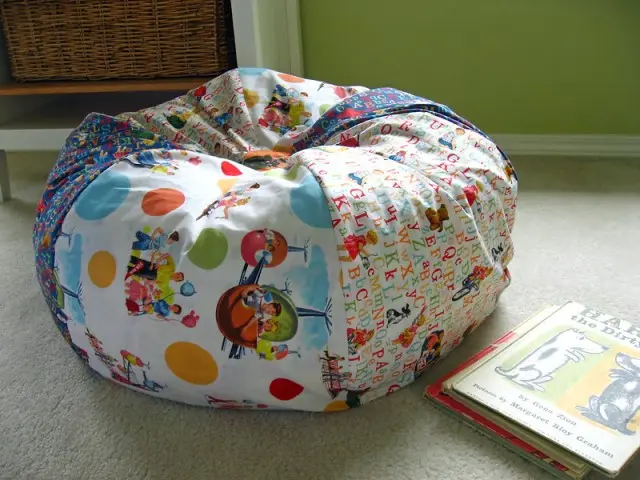 It is crucial to ensure that the playroom has an ample supply of pleasant seating choices for youngsters to relax. Bean bag chairs are fantastic options because they are versatile and save up floor area by not requiring additional furniture. You can also choose cushioned armchairs If you need something more structured and comfortable enough for relaxing on lazy days at your residence. When arranging a playroom, it's important to have open shelving so that your kid's toys don't disappear beneath beds or behind couches.
Select shelves that can be adjusted in height so that goods will remain accessible even if your child grows bigger. This also simplifies cleanup because everything will have a designated place. You may also consider setting bookshelves with age-appropriate literature since reading is one of the finest things to promote your kid's cognitive development.
To give your kid comfort on hard surfaces like wooden floors, you can add cushions and other soft seating alternatives that provide your kid a comfortable place to sit and look fantastic as well. If you need something striking yet useful for everyday usage, go for rugs with striking patterns, as they protect floors from damage and add warmth. Finally, don't forget to include blankets. Keeping your child warm while playing during the winter months makes these crucial materials.
10. Add lighting fixtures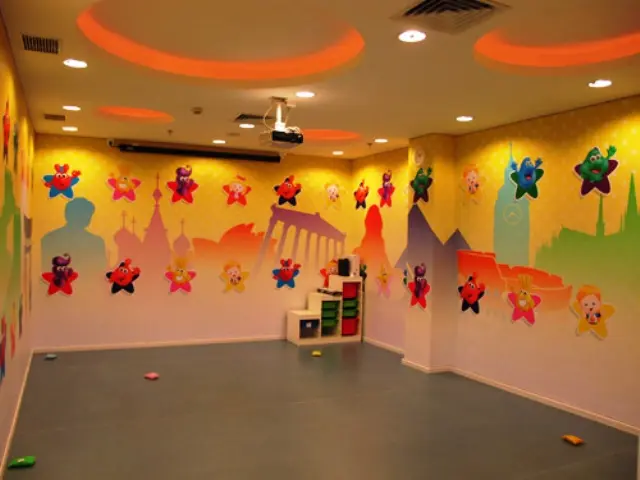 Why not be inventive with your lighting? Lighting plays a crucial part in establishing the mood of any space. If you like faded lighting effects, you can try hanging paper lanterns from the playroom's ceilings; they also work well above beds. String lights strung across window sills make wonderful shapes when lit up at night. You can also use chandeliers. Depending on what works excellently with your overall playroom décor concept, choose classic and crystal patterns or go for contemporary geometric shapes. Choosing stuffed animals that resemble your little one's favorite personalities from books, movies, or TV shows will ensure that they always have a known face around when they require it most. Stuffed animals are great playmates for your kid's imaginative playtime sessions.
Conclusion
You can make your kids' space organized and entertaining by making the most of your storage space, setting up a simple housekeeping procedure, setting aside a space for play, and adding interesting decorations and accents to your design scheme. Keeping these DIY playroom ideas for small spaces in mind can help you maximize any size of space. It is more probable that your children will play creatively and independently when they have a designated play area, no matter how little.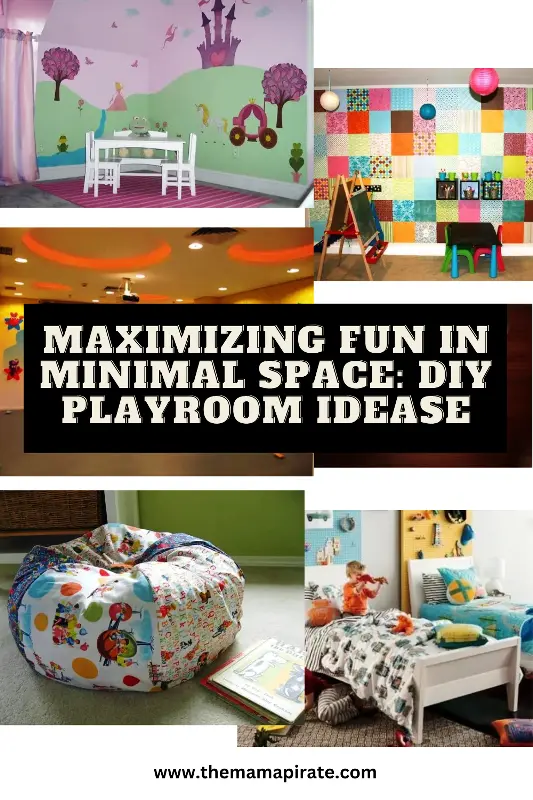 MORE POSTS:
24 Mother-daughter fun activities at home