24 Mother-Daughter Fun Activities at Home
Last Updated on 3 weeks by admin
There is always something special in mother and daughter bonding. Each girl, be it a toddler or teenager daughter, loves to play and spend time with their moms. However, sometimes for mothers, it is tough to balance life and bonding with the family. Besides discovering new entertaining things to do with daughters, doing it can also be challenging. But as moms and daughters share a unique relationship, doing something creative can grow the bond more intensely. Therefore, rather than another movie night, why not try something different that might interest you and your daughter? So, from delightful games and activities to easy crafts for toddlers, below, we have compiled several activities for toddlers and teenagers that will surely make them happy and also strengthen your relationship or bonding. So, let us begin the exploration and learn new things to do along with your daughter.
15 Mother-Daughter Activities With Toddler at Home
You can perform several fun activities at home with your little toddler. These are as follows.
1. Execute a dance session
Girls love to dance. So, why not make it a routine for fun? There are several alternatives for Mommy and Me type dance sessions. You can get many enjoyable dance classes for your little daughter. You can also sign your daughter up for a dance class that enables parents' participation. If you perform such an activity, you and your toddler will get to know the dance steps and share a strong bond. So, it is one of the fundamental activities you can adopt to make the relationship better with your girl child.
2. Play with dough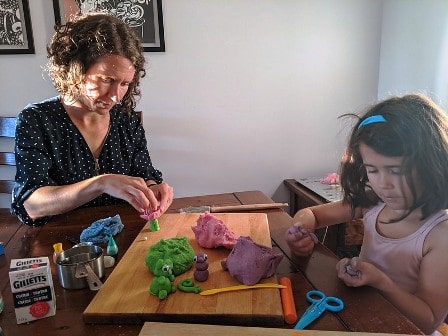 You will find no toddler who cannot prefer to stay busy with their hands. So, if you give them playdough to make different kinds of shapes, you can execute a playful and entertaining activity with your daughter. For example, make something with playdough and give your little one some shaped cookies with rolling pins and cutters. After that, elaborate on cutting out the cookies in proper shape. In this way, you can incorporate new learning skills into your child's mind. The entire activity will also help you strengthen the bond between you two.
3. Go to your nearest park
Park is a beneficial place for toddlers. It is a fun place to instill some social skills among kids. Therefore, one of the significant and efficient activities with toddlers is to visit the nearest park and play with your daughter. In that way, your little girl child not only finds a companion in you but also makes some new friends by playing with other kids and moms. Thus, it is a crucial activity you can execute if you want to teach your toddler some socialization skills from the very beginning.
4. Go swimming
Apart from going to a park and playing there, you can take your toddler to a swimming pool. You will find many things for playing like floats and balls for much more enjoyable water play. Your daughter loves to spend time there, and in that way, you can make your bond stronger as well.
5. Prepare dinner
Many girl children prefer to play in the kitchen. So, why not make use of it and convert the pantry into a funny and enjoyable place? Rather than using plastics, utensils and preparing fake meals for your daughter's dolls, you can tell your toddler to help you to prepare dinner and allow her to serve the dishes. Who knows, you might find a renowned chef inside your kid in the future? Therefore, take advantage of this activity to strengthen the relationship productively.
6. Have a tea party
A tea party is one of the most efficient and classic mother-daughter activities. It is so because the entire activity is adorable and graceful. So, as toddler girls like to feel classy with their tea time, it is an outstanding chance to have some snacks with tea-like cookies, apples, or another fun treat.
7. Create a mailbox
You can indulge yourself and your daughter in making a mailbox. You can both decorate a card box with some chart paper and other decorative items. It is an enjoyable activity as when you fill the box with letters, your girl opens it and gets surprised. Besides, with these letters, you can teach your kid basic colors, pictures, shapes, and sizes concepts. So, is this not a fun activity? Thus, use this approach and execute it with your toddler.
8. Indoor movie
One of the favored things with toddlers is the at-home theatre experience. To do this, you can turn your room into a cinema hall and ask your daughter to invite her teddies and dolls. After that, you need to dim the light, draw the curtains, and stream your girl's favorite movie. If you perform this activity, you will see your toddler love participating in this time and again. That is why mothers like this activity very much.
9. Body tracing
Body tracing is another fun activity that toddlers love very much. Just lie down your daughter on a large piece of paper and draft the outline of her body. It is not only an enjoyable activity, but you can also help her to learn the concept of self-control. Besides, you can also tell her to fill color in the two eyes, nose, and face. Hence, it is a simple yet funny and productive activity to perform at home with your daughter.
10. Make a collage
Tell your daughter to cut out eyes, noses, hair, and other features from magazines and instruct her to make silly faces or some other things with those cut-outs. After that, assist her in sticking those cut-outs onto a paper. In the end, you both will notice a beautiful collage that makes your girl happy and loves to perform this activity several times.
11. Host a fashion show
If your little toddler loves to dress up, you can host a fashion show for her at your abode. It is a great and enjoyable activity as you will get a brilliant opportunity to play fashionista with your daughter. You can let her make the show lead and instruct her to walk along with the music. You can also take part in that and walk with her.
12. Spa day
Spa days are one of the classic mother-daughter dates due to fun. Like you, your little daughter might also love to put on a face mask. So, why not observe a spa day together? You can lay cumbers on her eyes and paint her nails. If you do this, you will not only perform a fun activity, but you can also teach your kid the concept of self-care and relaxation. It is always beneficial if you get her into self-care from the start, as it will assist her in managing stress when she grows up.
13. Imagine a boat
It is a playful activity. You can take a towel and ask to sit on it. After that, slowly pull around and tell her to imagine the towel as a boat or train. You can stop at different areas in your house for more fun. This activity will also help your daughter to improve her balance significantly.
14. Pass a ball
This fun activity is mostly preferred by moms. You have to stand at opposite ends with your daughter. After that, you need to take turns lifting each end to roll a ball back and forth. At first, your kid will fail, but in that way, you can teach her how to take control of everything to get success.
15. Drawing songs
It is a fun and productive activity for toddlers. You can sing your daughter's favorite tracks and then draw a picture that describes everything happening in the lyrics and hand the paper to her to draw something else said in the songs. You will see your kid take it as fun, and you can also engage her in some fruitful things.
9 Mother-Daughter Activities With Teenagers at Home
So, you have learned about some fun activities to perform at home with your toddler. But what if you have a teen daughter? Well, for this, you can still execute several enjoyable activities and make your ties stronger with your girl. Therefore, go through the below section to learn all these-
1. Do some exercise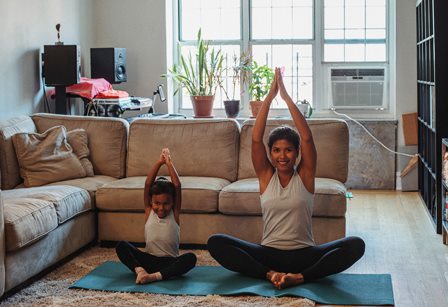 Modern girls are conscious about their health. They practice exercises and yoga at home to stay fit. Thus, if you take your teen daughter and perform some exercise, it will benefit both of you. You can do anything from yoga or dance to kickboxing or soccer. If you do this regularly, you can celebrate each other's victory and enjoy staying healthy and fit. After all, fitness activities build confidence and a healthy mindset among teen girls. So, why not execute such activities at home and reap benefits?
2. Get pampered
One of the favored and enjoyable mother-daughter activities to perform with your teenage girl is to get pampered together. To do this activity, you can do the below things-
Massage
Facial
Manicure and pedicure
Hair cut
Makeovers at a cosmetic counter
3. Learn together
It is a good and effective way to spend time together. When you and your teen daughter sign up for a learning class, you can both enjoy spending time with each other in a productive way. You both can attend any online classes. For example, take language learning classes, music sessions, and others.
4. Get artistic
Your teen daughter might love painting or knitting. So, if you adopt the hobby and engage yourself with her, you can make it an effective activity for both of you. But for this, you first need to understand your girl's preferences. For example, she might love doing photography, interior design, baking, or other things. However, remember that you do not have to be a pro at crafting to enjoy spending time with each other through these activities. Just engage yourself with your girl and spend some quality and productive time.
5. Cook together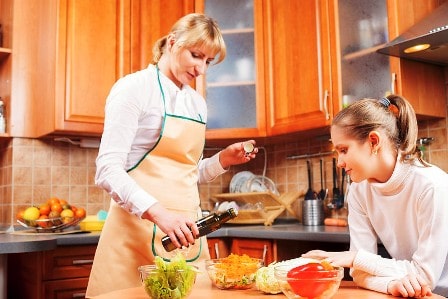 Another fun activity you can perform at home with your teenage daughter is cooking meals together. Through this activity, you can spend some quality time with each other, and your girl will also learn how to cook many dishes. Working together in the kitchen is a fun way of creating memories and imparting valuable life skills.
6. Movie marathon
If you want to spend quality time with your teen daughter and strengthen the bond, you can watch her favorite movie series. You can also get some popcorn and cold drinks and make some conversation along the way. It is an enjoyable activity to do at home.
7. Photo hunt
Modern girls love to click photos with different poses. So, why not take it as a fun activity and perform it at home? You can take your teen girl to the terrace and try to capture her photos in multiple poses. Besides, you can also tell her to click your and nature's photo. In that way, your child can learn a fondness for you and mother nature.
8. Play games
An enjoyable activity to perform at home is playing games. It is natural as games are one of the most fun activities. If you host a game at your abode, you will see your teen taking part willingly. Therefore, you can host her favorite game or anything else like Catch Phrase, Three on the Couch, Over the Mountain, Two Truths and Lie, Four on the Couch, Pictionary Down The Lane, or others.
9. Other fun activities include
Get your hair done
Take a yoga class
Invite her friends and make conversation
Dealer's choice – have your daughter pick anything she wishes
Final Takeaway
So, these are some enjoyable, effective, and productive activities to perform at home with your toddler and teenage daughter. However, you should first understand what your girl likes before you indulge in any of these activities. After all, as a mother, it is your responsibility to make your kid feel good. Hence, consider her likings and mood before performing any activity.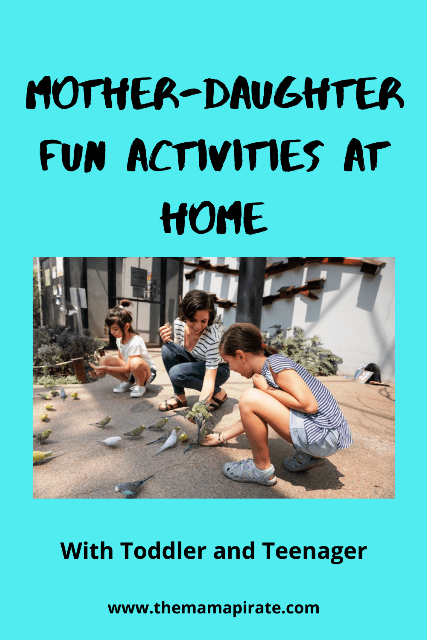 24 Mother-Daughter Activities With Toddlers and Teenagers at Home
READ MORE POSTS: