6 Best Electric Pruner Shears for Home Garden
Last Updated on 1 year by admin
If you are a homeowner, a green-fingered gardener, or professional horticulture, an electric pruning shear is a must-have equipment. You should buy the most excellent equipment for the job, whether you're pruning trees or cutting flowers.
With the electric pruning shear, you should be able to get a straight and clean cut with no effort. Manual shears will never be able to compete with the standards of electric shears in terms of performance and convenience of use as battery technology improves.
It's challenging to pick the best pruning shear because so many are on the market. We'll provide you with all the facts you need to make an educated decision.
What is the purpose of a pruning shear?
An electric pruner shear is a scissor-like horticultural tool that can be used for various tasks. For example, it's ideal for cutting flowers, trimming bushes, and removing unsightly branches. It can also prune trees and remove weeds, and there are no limits to what this instrument can do.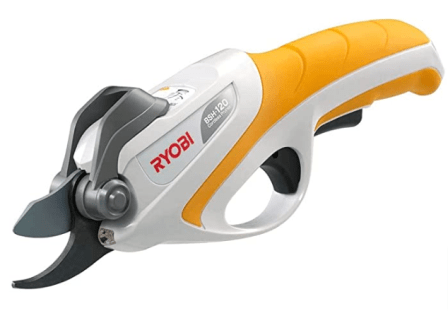 Some of the best electric pruner shears in the market
MORE POSTS: 12 Best plants for window boxes all year round
1. Sun Joe PJ3600C-Red cordless rechargeable power pruner
Key features:
Safety lock button
Removable blade
2000mAh battery capacity
2-year warranty
Safety switch
LED light
65min charge time
30 minute maximum battery runtime
The Snow Joe + Sun Joe manufacturing company has gained a reputation for developing creative and cheap outdoor tools in recent years. This pruning tool is lightweight and easy to use, and it will help you prune like a pro. Cutting is as simple as pulling the trigger, and when fully charged, the battery can cut up to 750 cuts on a single charge. It also has an ergonomic design that ensures a secure and pleasant grip. This means you may use it for a long time with just one hand without stressing your hands.
You will achieve a clean cut without much effort because it is a powerful tool. The plant will thrive with a straight cut, and this is critical for keeping plants, shrubs, and fruit trees running. There are two key safety elements in it. A safety switch is marked behind the trigger to prevent unintentional cuts, and twin LED lights allow it to be used in low-light circumstances.
Unlike other companies, the Sun Joe PJ3600C electric pruner comes with a two-year warranty, an indicator of a high-quality electric pruning shear.
The blades are protected from moisture during storage by a blade cover. Because the blade is constructed of metal, it can rust if exposed to moisture.
Benefits:
Offers up to 750 cuts per charge at one go7
Affordable
Sufficient battery life
Easy to use
Fast charging battery
2. HomeYoo rechargeable cordless pruning shear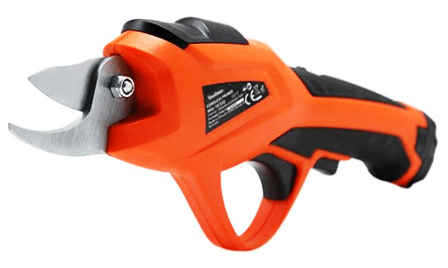 Key features:
1500mAh rechargeable battery
500cuts per a single charge
14mm cutting capacity
Rubberized handle
This electric pruning shear is a fantastic addition to your gardening arsenal. It appears with a constellation of outstanding features that make it excellent for various gardening tasks. First, the handle rod of this electric pruning shear is rubberized for maximum grip and comfort while in use. It has a 14mm cutting capability, so you may use it to cut branches, twigs, stems, and other garden items with ease. Despite having a capacity of only 1500mAh, the battery may last up to six hours of operation.
It's a powerful instrument that provides a clean cut that encourages plant growth, making it excellent for fruit trees and flowering plants. It's straightforward to cause an accident while using an electric pruning shear because all you have to do is squeeze the trigger. This shear incorporates a safety switch hidden behind the trigger to keep you safe.
The blades are constructed of metal, while the outside shell is high-quality plastic. As a result, you can utilize this shear in various applications. It has an easy-to-follow instruction manual, which is crucial, especially if you're using an electric pruning shear for the first time.
Benefits:
Sufficient cutting capacity
Rugged construction for longevity
Anti-slip grip
Ergonomic design
Easy to use
3. RYOBI rechargeable pruning shears BSH-120
Key Features:
Blade cover
12mm cutting capacity
1300mAh rechargeable lithium-ion battery
60 minute charge time
This electric pruning shear is one of the best on the market. It's a high-performance tool that may be used for various tasks. RYOBI is a well-known Japanese brand that has built a reputation for delivering high-quality, long-lasting products.
Although it is more expensive than other manual shears, it has more incredible features and functionality to make your pruning tasks look like child's play. It has a beautiful and ergonomic design that makes pruning more comfortable. It also weighs 100g, so you may use it for an extended period without growing bored.
The battery has a large capacity, but it also charges quickly, and it will only take 60 minutes to charge if it is empty entirely.
Benefits:
Easy to use
Safety switch for increased safety
Stylish and ergonomic design
Fast charging battery
Reliable and efficient tool
Removable blades
Lightweight
MORE POSTS: 5 Best Pruning Shears for Indoor Plants
4. Gardtech Electric Cordless Pruning Shear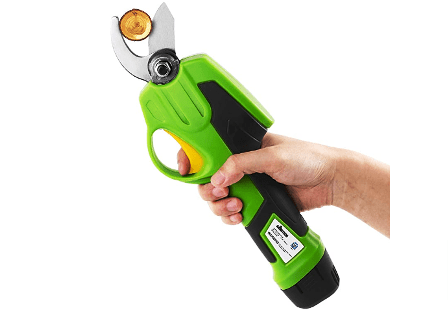 Key features:
Carbon steel blades
Rubberized handle
Finger protective guard
High-quality casing
This electric pruning shear is one of the most powerful on the market, and it will allow you to cut various materials, including hardwood plants. The superior soft rubber padded handle, which provides a pleasant grip, is one of the most enticing aspects of these pruning shears.
Another fantastic feature is the finger protection guard, which shields your fingers from thorns and scratchy branches while working in the fields. Additionally, it comes with a built-in dual onboard a safety switch to prevent accidental cuts.
Benefits:
The steel blades do not wreck.
Comfortable handle
Finger protection guard
High-quality material for longevity
Razor-sharp blades
Requires no effort to operate
5. Scotts Outdoor Power cordless electric pruning shear
Key features:
Built-in lithium battery
Safety switch
Cordless
2-year warranty
This is one of the best electric pruning shears that may be used for various horticultural tasks. It has outstanding features that set it apart from the competition.
To begin with, it has an integrated 2000mAh lithium battery that, on a single charge, provides up to 800 cuts. A safety switch is located behind the trigger. To use the trigger, you must first press the safety switch, which helps to prevent unintentional cuts. Another essential safety feature is that when you attach the charging cord to the battery, the blade closes and stays closed without your input.
Traditional pruners are challenging to use for those with conditions like arthritis. Scott's Power Pruner, on the other hand, has a trigger that makes cutting branches up to 34 inches easier. The blades are protected by a solid plastic sheath when not in use, and this helps prevent corrosion by keeping them dry.
Benefits:
800 cuts on a single charge, I.e. a powerful battery
The safety switch keeps you safe
Lightweight and compact
Cushioned handled for a comfortable grip
Ergonomic design reduces stress on the hands
6. Felco Power-Assisted Pruner Model-70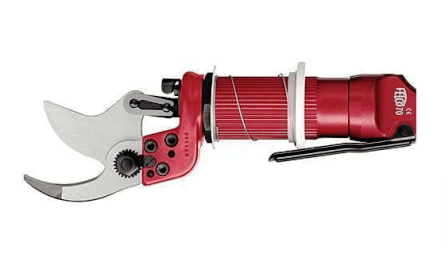 Key features:
Rotating cutting head
1.2-inch cutting capacity
Advanced pneumatic design
Felco is a Swiss gardening tool company dedicated to providing innovative and long-lasting solutions at a reasonable price. If you want a high-quality electric pruner with a unique design, the Model-70 is ideal. The sophisticated pneumatic construction of this pruner makes it comfortable and simple to use. Furthermore, it features a dual-piston mechanism that ensures a straight and clean cut.
Some trees are densely populated, making it impossible to reach some branches. This pruner has a revolving cutting head to reach hard-to-reach branches. The only difference between this device and the others on the list is that it moves the blade by applying pressure, which implies you won't have to charge it to use it.
Because it is power-assisted, you can make whatever type of cut you want, even if the plant has thick branches. It features a 1.2-inch cutting capacity and a 200-psi pressure so that you may use it for a variety of gardening tasks. The Felco Power-Assisted pruner is 1.2 inches long and weighs only 1.97 pounds, making it enjoyable to use for extended periods.
Benefits:
Simple to operate
It is power-assisted to provide a perfect edge-cut.
Double piston system to ease the cutting of thick branches
Rotating cutting head to reach branches
Conclusion
Electric pruning shears are available in various styles, and we've compiled a list of the top to help you narrow down your options. Electric pruning shears are slightly more expensive than manual ones, but they offer more advanced capabilities that make work easier and faster. Because it is strong, lightweight, cordless, and sturdy, the RYOBI rechargeable pruning shears BSH-120 are highly recommended.
MORE POSTS: List of kitchen essentials for new homeowners