How to Dress During Pregnancy Without Maternity Clothes?
Last Updated on 1 year by admin
Pregnancy is an exciting time for any woman but it can also be a time of uncertainty, especially when it comes to fashion. How to resolve these worries during your pregnancy? Also, how can you dress your growing body without resorting to maternity clothes? The answer is very simple, just add a little bit of creativity to your daily life and figure out things that will suit your style by some careful shopping. It is not that hard to find flattering clothes that will keep you stylish and presentable throughout your pregnancy without even a need of breaking the bank. Lol !!!
Let's learn in detail how you can look trendy and even be more comfortable during your pregnancy without wearing maternity clothes.
1. Look for summer dresses
As usual, you won't fit in the previous size clothes since your body will tend to grow bigger as the days will pass. Selecting larger size clothes will allow you to wear them for long as your body continues to grow. Go for loose flowy bump-friendly non-maternity dresses that will be comfortable to walk around during pregnancy.  And they can be dressed up or down to suit any occasion. Especially, these summer dresses are a great option it doesn't require waistbands or fittings on the most important part of your body "bump" and also look stylish for your everyday wear. You can find these bump-friendly non-maternity dresses in a variety of styles, colors, and fabrics. When you're pregnant finding a perfect outfit can be a little bit troublesome but trust me these summer dresses are bump friendly and will also enhance your curves making you look more femininely attractive in every way possible.
2. Oversized Tshirts
As your belly grows in pregnancy investing in oversized t-shirts is a good option as you might start feeling uncomfortable in regular clothes. Check for the size chart when you're shopping online that will fit your growing bump. Comfortable clothing wear like oversized t-shirts is so important as it also avoids unnecessary back pains and discomfort during your pregnancy for the bump-friendly outfit. Oversized T-shirts with good cotton fabric will be a great alternative in your pregnancy as they will absorb sweat in high temperatures and prevent rashes too. No matter how badly you want to get done with shopping pay attention to the styles that will look flattering on you such as a tank top or tee. Let's look at how can you style an oversized shirt for a bump-friendly outfit.
Wear a tank top with a pair of leggings.
Wear an oversized shirt as a cardigan.
Try colorful patterns too to add a vibrant look.
MORE POSTS: Best Beach Family Photo Outfits for Summer
3. Belts to form the waistline
A support belt will help to reduce strain on the back and will also support your growing belly especially when you're out with family. It can also prevent stretch marks to a large extent from occurring. These will also provide a firm shape to your body that will benefit your health and will also avoid a bulgy body look too. There are many products available in the market with the name "Maternity belly bands", " Pregnancy bands" or " Pregnancy belts". It provides bump support and also reduces pressure on spines and nerves for a perfect bump-friendly look.
4. Stretchy rubber bottoms
Many women love wearing bottoms, but due to agonizing discomfort, they totally ditch jeans. However, you can still wear bottoms that are elasticated, soft, and breathable during pregnancy. There are many options available in the market from leggings, yoga pants, and loose-fitting trousers for everyone. Rubber bottoms are also comfortable at your bump and also support the weight of the bump while you're moving around doing your everyday chores. Just style it with an oversized T-shirt or top and you are good to go. You can also add a blazer or cardigan when you step out to accentuate your feminine bossy personality.
5. Comfortable bras
As the belly grows in pregnancy so does the bust area. These calls for investment in new bras that will fit your new size. Many women face a hard time finding the perfect fit due to changes in their body shape and size. The ultimate solution for the overlaying problem will be to invest in bra extensions. Bra extensions are nothing but extension wire that is attached to the back of the bra to give your regular size bra some extra length. A versatile solution for women in pregnancy to cope with the existing innerwear for a longer period.
6. Layering of clothes
The layering of clothes helps to keep you warm and can also disguise your growing belly. The layering of clothing can be a stylish way to present yourself in pregnancy. Many well-known celebrities opt for layering of clothes when they're hanging out with family and friends, to look presentable enough. Some tips for layering during pregnancy will be :
Wearing a matching cardigan or jacket with a blouse or T-shirt.
Layering of dresses to look elegant and stylish.
Wearing a tank top or sports bra under a shirt.
Wearing a scarf and simple jewelry for a touch.
If I were in your place I'd have styled it off with a tank top and pair of leggings, added a blazer to cover the belly (and also to keep it warm), and lastly would have topped it off with a scarf if it is too breezy outside. It is as simple as that, you can figure out as many styles as possible by layering whatever goes with your choice and preference.
MORE POSTS: What to wear to a baby shower as a guest
7. Wearing Jumpsuits
The jumpsuit is a popular choice nowadays due to the comfort, style, and fabric that it has to offer. They're usually made from light, loose-fitting, and airy fabric that will turn out to be bump-friendly during your pregnancy. It comes in a range of clothing styles and you can definitely find the style that will suit your shape and fit. They can be worn during pregnancy with ease. Although, it would be great to select a jumpsuit that has an empire waist to accentuate your growing belly. It can be worn on any occasion from house parties, meetings, and social gatherings even when you're pregnant or not.
8. No heels only flats
Sorry to say this, but you need to totally ditch your heels during pregnancy as it can cause a lot of body aches in the long run. Also, as your pregnancy progresses, you might start to feel more uncomfortable in heels and opt for flats instead. This is perfectly normal. Many women find that their sense of balance changes as their belly grows making heels a bit more challenging to wear. In addition to it, your growing belly can also put extra pressure on your feet and cause pain in your toes and ankles. If you're pregnant and feeling more comfortable in flats go ahead and make that switch. Flats are totally recommended instead of heels as they will really make you feel comfortable without putting extra strain on your toes.
9. Stretchy rubber bands on jeans
You can still look out for your old pair of jeans and wear them for grocery shopping, monthly salon visits, and family gathering by fixing a stretchy rubber band on the zip buttons. Many women find it difficult to wear jeans especially due to the growing bump in pregnancy. However, you can easily make enough space for your belly to relax and have a stylish jeans outfit by adding rubber bands and increasing the size of the jeans on the waistline. You can style it with a loose-fitting tank top and a piece of jewelry around the neck, and you're good to leave the house.
This tip is usually preferred by women who have trouble finding the perfect jeans fit particularly on the waist. So, to knock it off they prefer using rubber bands.
Conclusion:
I get it that dressing style in your pregnancy can be a challenge and you'd love to invest in maternity clothes as it comes with extra comfort. Maternity clothes are great when you are staying indoors but when you step out you need to look your best no matter what so try adding stylish plus comfortable clothes to your wardrobe too. The best part about these easy clothes options mentioned in this article is that you don't have to sacrifice style for comfort. Also, do keep in mind to look for clothing that will not interfere with the movement of your body in pregnancy. Since, it can disrupt the blood flow in your veins, especially around your foot which in turn can cause foot swelling.
So, do opt for stylish wear during pregnancy because why pregnancy should stop you from looking fashionable? You can totally rock your motherhood by being stylish by exploring various outfit options out there by not wasting a lot of money too.
I hope this guide was helpful in showing you how to dress during pregnancy without resorting to maternity clothes. I'd love to hear your thoughts and experiences on this topic. Congrats on your good news.
Happy Motherhood!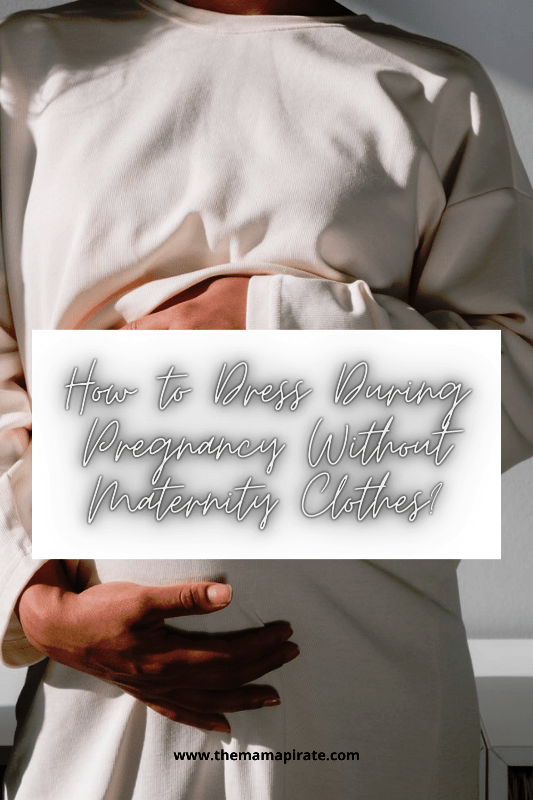 How to Dress During Pregnancy Without Maternity Clothes?
MORE POSTS: What to Wear to a Birthday Party of a Friend