Growing eggplant is not so difficult. If you have a kitchen garden you should definitely add eggplant to your garden. Kitchen gardens are now getting more popular among city people. People living in big cities want a kitchen garden to have to get fresh vegetables whenever they need. Commonly grown vegetables in a kitchen garden are cilantro, lemongrass, celery, mint, tulsi, fenugreek, spinach, eggplant, broccoli, Calabash, bitter gourd, lemon, and other herbs.
Coming back to the main topic How to grow eggplant from store bought, at first you need to buy a good size eggplant which not infected and has seeds in it and it should not be a hybrid one. We will grow new plants from the eggplant seeds.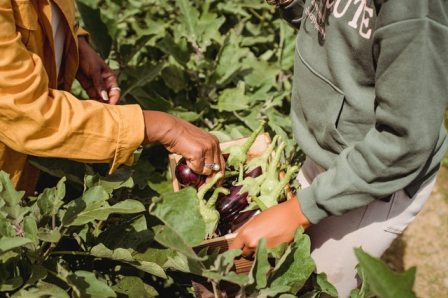 [toc]
Choosing the best quality eggplant
Always go for an eggplant that is open-pollinated or pollinated naturally and not a hybrid one. After you choose the eggplant, you will need to scoop out the seeds Don't worry if a little bit of pulp comes along with the seeds. We will separate them using a mesh. Rinse off the seeds as shown in the video with running water this will remove any extra remaining pulps from the seeds.
Planting the eggplant seeds in the soil
Now, we have got the best quality eggplant seeds, we can now plant them. You can directly sow the seeds in a damp soil. I like to at first germinate them by keeping them in a wet cloth for few days in a damp shaddy area. After, the seeds germinate, carefully take them out and transfer to a pot or container or wherever you want to grow.
When often do you need water your eggplant plant?
At first, when the new plant comes out from seeds you may need to water twice daily in the morning and evening. When the plant grows to a normal eggplant plant size say 10 inches tall you may not need to water too often. Once a daily in the evening is enough.
What soil is best for eggplant?
Eggplant loves well-drained sandy loam soils with a pH between 5.5 and 7.2. You can add cocopeat and compost to the soil if you are growing in a pot.
Reasons to grow your own eggplant plant
1. Cheap fresh eggplants at the doorstep
Adding eggplant plants to your kitchen garden will provide you fresh eggplants for a year. You may spend few bucks on buying the best quality seeds, pot, container, compost, and other gardening tools. You do not need to spend a lot of time digging and growing these. A one-hour daily work can give you a nice yield.
2. Organically grown eggplants
You are the boss of your food. When you buy vegetables from stalls and supermarkets you do not know where from do the vegetables come from and how they are grown. When you grow them at home with only compost manure and no chemical fertilizer, you get naturally grown organic products.
3. Importance of eggplant plant in a Kitchen Garden
Having a beautiful-looking kitchen garden can not only provide nutritious foods, but it also provides a great ambiance to the surrounding. Generally, In a kitchen garden, different vegetables are grown. Eggplant plants in a kitchen garden help to maintain distances between crops. And You only need a few eggplant plants to have enough yield for a family.
CONCLUSION
The importance of a kitchen garden is not only limited to schools. Any educational institute having a canteen or hostel mess should build a kitchen garden nearby. And if you have a kitchen garden, add eggplant plants to enjoy them fresh. I always recommend buying seeds from an organic seed store rather than growing eggplant plants from store bought eggplant.
You May Like to Read:
Best Pruning Shears for Indoor Plants
How to grow a coconut tree from a store bought coconut
How to propagate dracaena draco
The Guide to Organic Gardening for Beginners: Everything you Need to Know