How to make earl grey tea with bergamot oil
Last Updated on 11 months by admin
Who does not want to have a cup of hot tea in the morning or throughout the day? Since a cup of tea has the potency to rejuvenate oneself, people get their inspiration to live their lives to the lee from this drink. But, some variants of tea, like the Earl Grey, even offer an extended range of health benefits.
For many years, people have been drinking Earl Grey Tea with Bergamot oil to enhance their cardiac and digestive health. Since Earl Grey or Bergamot tea includes the extract of bergamot orange and black tea, it is so beneficial for human health. While components of bergamot citrus and black tea act as antioxidants, you will notice an improvement in digestive issues, blood pressure, and cholesterol level.
So, if you want to know the benefits and components of Earl Grey tea with bergamot oil, check out this blog. Also, we have shared top recipes for bergamot tea so that you can receive health benefits in a tasty way.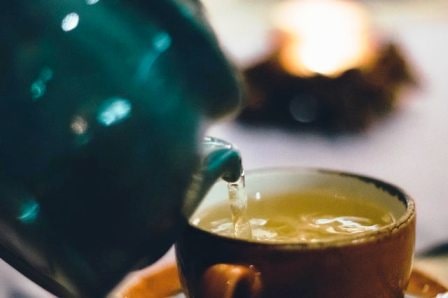 Benefits of Earl Grey Tea with bergamot oil
When it comes to Earl Grey tea with Bergamot oil, the beneficial plant compounds enhance the nutritional value of this drink. You will get healthy components, such as polyphenols, neohesperidin, naringin, flavonoids neo eriocitrin in this bergamot tea.
While the polyphenol in bergamot acts as an antioxidant, regular drinking of Earl Grey tea with bergamot oil can help the consumer fight against the free radicals in the body. The free radicals destroy the cells and cause cancer.
If we now talk about black tea, it also includes several antioxidant properties, such as catechins. Therefore, we can conclude that the tea is enriched with various antioxidant properties and offers the following health benefits.
1.Improves cardiac health
As mentioned earlier, Earl Grey tea with bergamot oil features specific beneficial properties that cut down the risk factors for cardiac health. While the bergamot oil reduces the poor cholesterol level of our heart, black tea helps the blood pressure level stay normal.
But, how does bergamot cut down bad cholesterol? As per several studies and research, the bergamot plant contains flavanones that curb the cholesterol-producing enzymes in our bodies. Even in a study, scientists have proved that 80 out of 100 people have noticed a significant reduction in triglycerides and LDL cholesterol levels after using Earl Grey tea with bergamot oil for six months.
You may be wondering how bergamot reduces the high cholesterol level. Researchers have seen that bergamot even enhances the effectiveness of cholesterol-lowering drugs. Thus, the regular consumption of Earl Grey tea with bergamot oil cut down the risk of cardiac issues.
Usually, 95% of adults are at risk of high blood pressure. But, if they start drinking 3 cups of black tea regularly, the blood pressure level drops down to normal only after six months. So, now you can say that drinking Earl Grey tea with bergamot oil impacts cardiac health positively.
2. The tea enhances digestive health.
As mentioned earlier, Earl Grey tea contains flavonoids that fight against the inflammatory components and improve digestive issues. Studies have proven that bergamot citrus extract curbs the excretion of inflammatory proteins.
So, the regular usage of Earl Grey tea with bergamot oil can lower episodic diarrhea and several types of inflammatory bowel disorders. Often some bacterial infections in the intestine lead to stomach ulcers and other painful inflammation.
But, the theaflavins in the black tea can improve these intestinal disorders. So, now you can conclude that the regular consumption of Earl Grey tea with bergamot oil can enhance digestive and cardiac health.
Ingredients for Earl Grey Tea with bergamot oil
Since the 1820s, Earl Grey tea has conquered the morning tea routines throughout England and has become a staple drink. Although it may sound like a complicated drink, a simple black tea with a hint of bergamot oil has created everlasting magic almost a couple of centuries ago.
But, what are the tea components, and how do they combine to create such a memorable pair? Well, we have answered all these questions in the following points.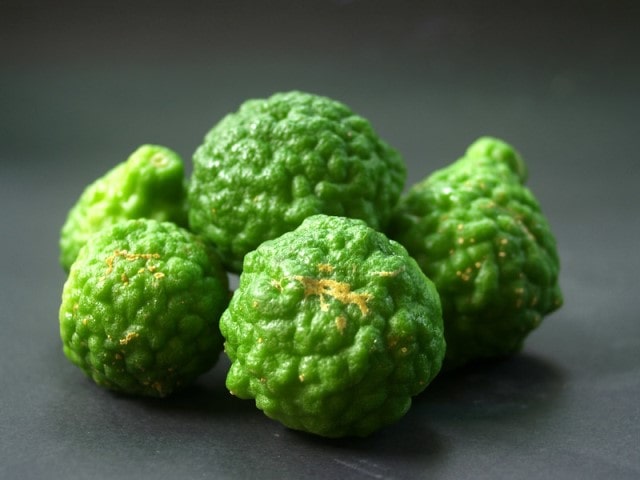 1.Bergamot citrus oil
Since bergamot oil is a vital component of bergamot tea, let us first discuss this ingredient. The bergamot oil is nothing but the extracted fluid of the bergamot citrus. You can get to see this fragrant orange in the coastal area of Côte d'Ivoire and the Ionian Sea.
Although many people think of this fruit as a hybrid of bitter orange and sweet lime, you can even get mesmerized by the fruit fragrance. Due to the essence, bergamot citrus is even a popular component in the perfume industry.
However, it can take about 100 bergamot oranges to extract only 3 ounces of bergamot oil. Since the Reggio di Calabria province of Italy produces the majority of this fruit, the city is even popular with the name bergamot.
2. Black tea leaves
The black tea leaves can be from Darjeeling, Ceylon, or any other place. The only thing you need to do is let the leaves wither, oxidize, and dry.
After the tea leaves get prepared, you have to soak the leaves in the bergamot oil extracted from the bergamot citrus for enhancing the flavor.
There is no universal tea to bergamot ratio that a manufacturer needs to follow. Since every Earl Grey tea includes a unique taste and flavor, the aroma depends on the ratio variety.
Best Earl Grey Tea recipes
Earl Grey tea is a unique drink made with black tea leaves from Assam or Ceylon and bergamot citrus oil from Italy. Although earlier people used bergamot fruit peels to prepare Earl Grey, now the usage of bergamot oil in preparing this tea is more popular.
As this tea comes with caffeine, people from the US like to have it with milk and sugar. But, many prefer their early morning Earl Grey tea with lemon and sugar stirred in it. Still, the good thing is the tea tastes superb either way.
Although Earl Grey tea has a heavenly aroma and flavor, authentically preparing the tea makes it more delicious. Therefore, below we have penned down two traditional Earl Grey tea recipes so that you can try them at home.
1. Hot Earl Grey tea
Ingredients: Earl Grey tea, water, sugar (optional), lemon/milk (optional)
Preparation guide
Take more than the required water quantity in a kettle and boil it. If you use an electric kettle with an in-built temperature setting, it will be easy to boil the water at a perfect temperature for the right amount of time.
Now, add the extra hot water to a teapot and swirl it with a spoon to increase the pot temperature. After that, discard the water.
Now, put the right amount of Earl Grey tea in the warm pot, add the required hot water and cover the pot. But, do not steep it for longer as it will make the tea bitter.
In the last phase, strain the tea leaves and enjoy the hot tea with sugar, milk, or lemon.
2. Iced Earl Grey tea
Ingredients: High-quality Earl Grey tea, water, ice (optional), maple syrup (optional), lemon/milk (optional)
Steps to follow
Put Earl Grey tea leaves and chilled or room temperature water in a glass container. Then, cover it and let the tea refrigerate to cold brew.
Now, you can strain the Earl Grey tea leaves and pour the cold-brewed tea into a teacup. Although adding ice, maple syrup, and milk is optional, you can add them to enhance the taste of your iced Earl Grey tea.
FAQs on Earl Grey Tea
Below are some questions asked frequently by Earl Grey tea lovers.
How to drink earl grey tea?
Earl Grey tea is one of the most aromatic variants of teas that you can enjoy across the globe. Since one of the main components of this tea is bergamot oil, the drink bears a citric note that adds a unique flavor.
However, you can enjoy your Earl Grey tea as a hot or iced drink with lemon or sugar. Also, you can add steam milk or vanilla to enjoy a cup of Earl Grey latte. But, do not put lemon and milk/cream together as the citrus can make the milk curdle.
What goes well with earl grey tea?
Earl Grey tea is a drink that goes well with almost everything. Therefore, you can enjoy your delicious Earl Grey tea with lemon or banana bread, cake, fudgy brownies, or mouth-watering cookies.
Since the bergamot tea comes with a little citrusy note, complementing this drink with a sweet, dessert-inspired food will be the best idea to enhance its taste.
What is the best time to drink earl grey tea?
Earl Grey tea contains good antioxidants and caffeine, making the person feel relaxed and energetic. Therefore, the best time to enjoy your Earl Grey tea is late morning and early afternoon.
While the morning bergamot tea enhances productivity, the late afternoon Earl Grey helps you stay focused on your work.
Key Takeaway
We hope you have received all the desired information about Earl Grey tea with bergamot oil from this blog. While the aroma and slightly citric taste make the tea one of its kind, the beneficial compounds of Earl Grey tea ensure a healthy heart and digestive system. So, if you are a tea-admirer, enjoy a cup of hot Earl Grey tea in the morning or cold brew bergamot tea in a summer afternoon.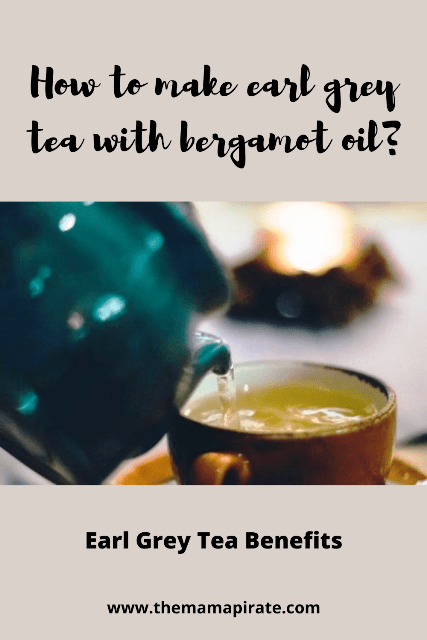 How to make earl grey tea with bergamot oil
YOU MAY LIKE: