15 FAQs on Burp Cloths for a New Mommy
Last Updated on 1 year by admin
What are burp cloths?
Burp cloths are nothing but one kind of reusable baby wipe. These are one of the essential baby products you need for cleaning up your babies. We all know how the little ones tend to spit up, especially while burping. So, you can use a burp cloth to wipe out the spits both on you and the baby. Usually, parents drape the cloth on their shoulders while winding or burping the baby. So, the burp cloth absorbs all the drools, vomits, and spit-ups that come from the mouth of your little one.
What are burp cloths used for?
Generally, parents use burp cloths to wipe the spit-up of their babies. The highlighted use of the burp cloths is for wiping the regurgitated milk after feeding the baby. But, apart from this, you can even use burp cloths to wipe milk dribbles, sneezes, and even snot. With newborns and infants, there is always something that can come your way. That is why burp cloths are an integrated part of the lives of babies and new parents. The cloth can help you in keeping your infant clean. Also, it is thicker than a natural towel which prevents spills and vomit from staining the cloth of the feeder.
How many burp cloths do I need for a baby?
Even though it depends on how many times your baby spits up and you do the laundry, 8 to 14 burp cloths are enough for both newborns and infants. Nowadays, parents tend to buy soft pieces of clothes that absorb quickly. So, the delicate fabric does not feel harsh on the baby. But, the important thing is if you can reuse the clothes after washing them thousands of times, then go for it. Always keep at least ten burp cloths in hand, especially when your baby is a newborn. The rule of thumb is the more burp cloths are readily available, the less you need to do laundry. Also, it will be a bonus if you find a larger burp cloth. 
MORE POSTS: How to Dress During Pregnancy Without Maternity Clothes?
How many burp cloths do I need for twins?
Generally, if you stock up 20 to 30 burp cloths for your twins, you are good to go. Newborns bring an equal amount of happiness and anxiety, and having twins is like double the joy and pressure. So, here we have shared two tricks for using burp cloths when you have twins. You can opt for any of these methods.
Many parents arrange fresh burp cloths for each baby on every feeding and burping session. So, if you feed one baby almost eight times a day, approx 20 to 30 burp cloths would be fine. 
It is a budget-friendly trick. Having twins does not always require you to double the number of burp cloths. If you feed your babies one by one, you can consider reusing the burp cloth. But make sure the towel is clean.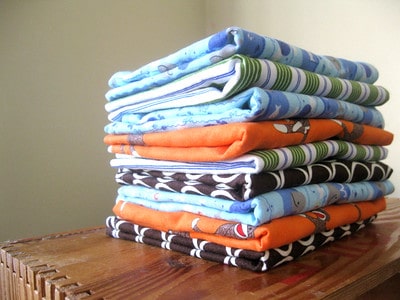 How long do you use burp cloths?
You can use burp cloths for your baby for about 6 to 9 months. Parents generally use burp cloths for wiping out the regurgitated milk, milk dribbles, or drools. So, you can face all these issues at almost nine months of age for your baby. Once your baby learns to sit or crawl around, you need not burp the little one. As burping becomes unnecessary at that time, there will be no requirement for burping clothes too.
Why are burp cloths thicker in the middle?
Good quality layered burp cloth features thickness in the middle to ensure zero leakage. Often burp cloths with superior-quality fabric fail to prevent the messy spit-ups from ruining your clothes. It happens because of the slenderness of the towel. While burping, your baby rests his head on your shoulder. So, if the cloth does not feature thickness in the middle, it cannot fully absorb all the vomit, drools, and spit-ups.
How often do you wash burp cloths?
You need to wash your burp cloths after every use. Every time your little one burps, drools, or vomits, it can stain the burp cloth. So if you are thinking about reusing it more than once before finally throwing the burp cloth in the laundry bag, that will not be a hygienic decision. Remember the burp cloth you put on your shoulder stays close to the face of your baby. So, using a clean cloth with no dirt or stain is the best for your baby's health. Also, while washing, opt for a mild detergent. So, it does not come harsh on the sensitive skin of the infant.
Can you bleach burp cloths?
Yes, you can bleach burp cloths only if it is necessary. Since you use burp cloths for babies, use only regular bleach. Take the burp cloths that are not white, and wash the clothes with ½ cup of bleach. Generally, we rinse clothes once or twice after bleaching. But, with baby burp cloths, you need to be extra careful. We suggest you do an extra rinse only to ensure that the burp cloth has no bleach on it. This precautionary step confirms that your baby does not get into contact with bleach. 
Can you use swaddles as burp cloths?
Yes, as swaddles generally come in bigger sizes, you can easily use those as baby burp cloths. Swaddle blanket moonlights as a nursing cover, stroller cover, and even a burp cloth for its generous size. If you are searching for a burp cloth with maximum coverage, then go for swaddle blankets. Since burping usually takes a long time, the fabric of the swaddles should be breathable and soft. So, your baby will love the comfy swaddles, and it will be the best purchase for wiping the drools and spit-ups.
MORE POSTS: What will my baby look like generator for iPhone?
Can you use receiving blanket as burp cloths?
Yes, you can use a receiving blanket as a burp cloth for the maximum coverage the material offers. While a usual baby burp cloth comes in small size, receiving a blanket provides more space with no leakage guarantee. The soft, comfy blanket keeps both you and your little one clean from any stain of spit-ups. Since burping takes a while, the breathable fabric of the blanket allows your baby to rest on it comfortably.
Is flannel good for burp cloths?
Yes, if you compare flannel burp cloths with regular cotton ones, flannel will be a great choice. Generally, pure cotton burp cloths fail to absorb repeated spit-ups or vomits from your baby. Some parents even have the worst experience using multiple layered cotton burp cloths. So, if you are also one of them, switch to a flannel burp cloth that consists of flannel fabric and does not leak even a single drop of spills or spit-ups. 
Is fleece good for burp cloths?
Yes, fleece fabric will be a wise choice for burp cloths as it has super absorption power.You will find several types of fleece fabric in the market while searching for a good fleece burp cloth. But if you are looking for a burp cloth that comes with a zero leakage guarantee with super comfy fabric, then opt for either cotton fleece or microfleece. Both fabrics are fluffy, soft, absorb drools and vomit instantly. Before purchase, make sure the burp cloth has multiple layers to prevent any mess. 
Is muslin good for burp cloths?
Yes, we consider muslin burp cloths as the top-quality product for their softness and super absorption power. The smooth muslin fabric does not shrink even after repeated wash. The delicate piece of muslin burp cloth does not cause any allergy or sensitivity on your baby's soft skin. Not only that, but you can even put a muslin burp cloth in 90°C water to disinfect it after repeated usage. It maintains the hygiene level. Moreover, the muslin fabric offers instant absorbency while serving as burp cloths. It also guarantees zero leakage as muslin can absorb the spit-ups and dry up more quickly than other materials. 
What fabric is good for burp cloths?
Cotton chenille is the top-quality fabric you can search for in burp cloth. This fabric is well-known for its super absorption ability. It will be a bonus if the burp cloth comes with multiple layers of cotton chenille and terry cloth. This combination guarantees double absorption than the cotton chenille fabric does single-handedly. But, only cotton chenille does a decent job while taking care of the moisture without leaving any residue of vomit on the surface of the burp cloth. So, there will be no slimy mess between you and your little one. 
Where to buy homemade burp cloths?
If you are searching for bleach-free, chemical-free, and soft burp cloths for your baby, go for the homemade ones. Designers stitch the homemade burp cloths specifically for the delicate skin of your babies. However, apart from some local stores, multiple websites sell these clothes even in bulk quantities. You can check out the following websites for purchasing homemade burp cloths with readily available discounts Amazon, Etsy, FirstCry India, Nykaa, Flipkart, and Mother care India. 
YOU MAY LIKE: