Summer Essentials for Women
Last Updated on 4 months by admin
Whenever the summer season arrives, you throw down your heavy clothes and mufflers and choose light and breathable garments. Women should look stylish and comfortable outside to bear excess heat and humidity.
Choosing the right clothes is a scope for women to express externally in the summer. Most women will like to wear short dresses in the summer season to beat the sweltering heat and humidity. But some women wish to wear a flowy dress in summer. So the fashion sense can vary from one woman to woman.
Selecting summer essentials within budget is quite tricky. So, we have listed 26 summer essentials for women so you can look elegant, smart, and stylish in the summer.
MORE POSTS: Newborn Winter Essentials to Keep them Warm & Safe
26 Summer Essentials For Women
1. White T-Shirt
When the heat of the sun becomes unbearable, then you must prefer to wear a white T-shirt. It will look good with black jeans, a maxi dress, or a floral skirt. White T-shirts are versatile and will look outstanding when you wear them in summer. The best thing is they are available in various styles like crop tees and body suit tees.
But prefer to purchase a high-quality white T-shirt so you can wear it every summer.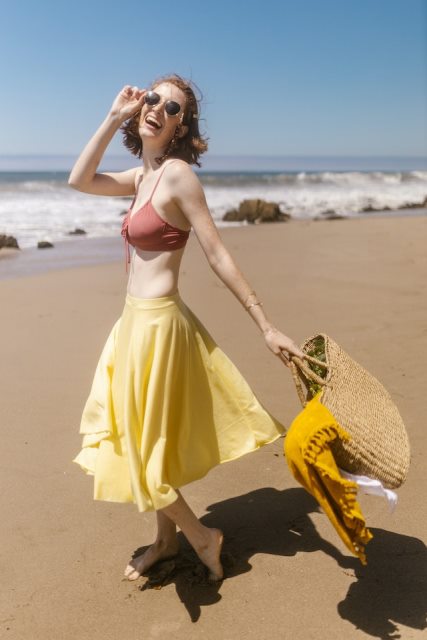 2. Summery Blouse
Summery blouses are easy to wear and are breathable, light, stylish, and comfortable. They can easily slide on the head and will look great on jeans. Summery blouses are perfect for adding to your wardrobe, especially for beating the sun's heat.
3. Denim Jacket
You don't need much outerwear in the hot season. But you can wear a simple denim jacket and your tops and tees. They will help keep you warm, especially in the early morning and evening. A denim jacket can also give you an elegant and stylish look.
4. Long Denim Shorts
Long denim shorts are easy to wear in the summer and look good with any tops in your wardrobe. You will be comfortable as they are light, airy, breathable, and give a stylish and modern look. Long blue denim shorts with crisscross waists will look good with puff full-sleeve white tops.
5. Non-Denim Shorts
Are you bored of wearing denim shorts every summer? If yes, then you should purchase non-denim shirts. They come in various color options and different styles. No denim shorts are airy and light. So you will feel comfortable while wearing it in the summer season.
6. Boyfriend Jeans
Skinny jeans will look perfect in the winter season. But what about summer? Boyfriend jeans will look great in the hot weather season. They are casual, cool, comfortable and will give you a modern look. But try to wear blue shade jeans instead of dark black.
7. Shirt Dress
Are you going out with your friends to a cafe or simply heading towards your office in the summer? If yes, wearing a shirt dress will look great in hot weather. The simple and chic style will give you an elegant and stylish look.
8. Midi Skirts
Some women may not like to wear mini skirts in summer. Well, we have an excellent option for you. You can wear midi skirts in the hot summer. You will find various color and style options while purchasing midi skirts. They are perfect for keeping you cool and comfortable in the sun's scorching heat. You can wear a flat chappal during day time and heels at night.
9. Maxi dress
Tight clothes in the summer season can b a nightmare for most women. A maxi dress can be an excellent option for the summer heat. Try to wear a light and breathable maxi dress. 
The best thing is they come in various color options with numerous designs and styles. Wear a maxi dress for coffee or have fun with your friends. You will look stylish and modern by wearing it.
10. White Pants
White pants can give you a refreshing look in the summer season. There are various style options when purchasing white pants. It includes straight, wide legs or cropped ones. It can also be made from denim. It will give you a stylish look in hot sultry weather.
11. Breton Stripes
Breton striped T-shirts will look great in the summer season. You can opt for blue and white Breton striped T-shirts. It will look good with jeans or denim shorts and will be eyecatching in hot weather.
12. T-Shirt Dress
The T-shirt dress is another excellent option to wear in the summer season. They are casual, comfortable and will give you a modern look. There are numerous style options when purchasing T-shirt dresses like striped, plain, and many more.
13. SwimWear
Most women love to spend time in the water, especially in summer. A swimsuit is one of the best options to purchase in hot weather, especially if you love to play with water.
You will find various swimsuit options online, like high-waist bottoms. So, purchase swimwear according to your preferences.
14. Linen Dress
A linen dress is another good option to buy in the hot summer. They are breezy, light, and comfortable and look fantastic. You can wear linen dresses both in-office days as well as casual days. It is one of the best fabrics you can wear in summer.
15. Straw Hat
A straw hat can protect your body, especially from the sun's harsh rays. You can wear a straw hat while going on a picnic or beach. They will look outstanding on any summer dress you wear in the season.
16. Sandals
Women usually go to backyards and pools during summer evenings. An easy-to-slide sandal can be a perfect option to buy in summer. It will go well with almost every summer outfit and will look amazing.
17. Sunglasses
You must buy sunglasses to protect your eyes from harsh sun rays. There are various style options while buying sunglasses from the market, like metal frames to cat eye.
18. Coloured Crossbody Bag
A colored crossbody bag is an excellent choice in the summer season. It will look great with any bright summer outfit. Always purchase a crossbody bag with enough space to keep all your essential items.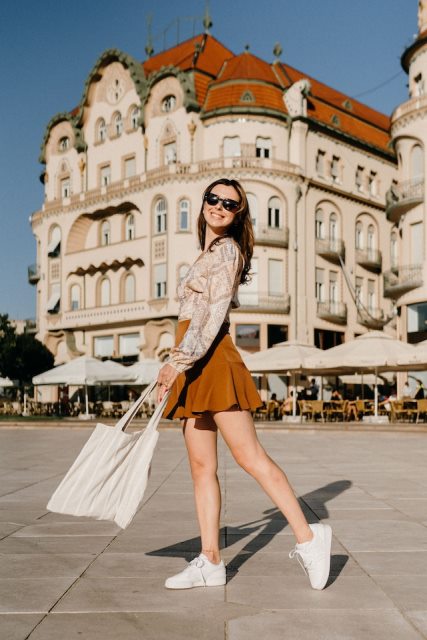 19. Stylish And Chic Top
Another summer essential for women is a stylish and elegant top. There are various style options like sleeveless, over-decorated, sexy, and many more. You can choose the one according to your preferences. You can pair a stylish top with white jeans to look amazing.
20. Insulated Water Bottle
An insulated water bottle is another summer essential that every woman should purchase. You can carry the bottle while traveling, hiking, or going to the gym.
21. Strap Sandals
If you don't like to wear flat sandals or have the habit of going to a lot of parties in the summer season, then strap sandals can be a good option. They are breathable, cool, and will be good in almost every summer attire.
22. Ballet Flats
Ballet flats can give you a classy look in any season, including summer. They will look perfect with denim shorts, paper bag pants, and corset tops. You can wear ballet flats at the office or any weekend party.
23. Off The Shoulder Dress
Off-shoulder, dresses are in new trend today. Try to purchase a light and breathable should dress that will keep you cool and comfortable in the summer.
24. Spaghetti Strap Dress
The thin straps of the spaghetti dress are perfect for the hot summer season. Apart from it, the dress will give a stylish and modern look.
25. Cut-Out Dress
Cut-out dresses are in trend now, like off-shoulder dresses. They usually consist of lightweight materials and are airy or breathable. So cut-out dresses are just perfect for hot summer days.
26. Ruffle dress
Ruffle dresses are light, breathable, and comfortable to wear in summer. You will even look stylish after wearing a ruffle dress.
MORE POSTS: List of Bathroom Essentials for First Apartment
How To Choose Women's Summer Essentials?
Summer is the perfect time to enjoy the sun and the outdoors. Apart from that, you must show your style during the summer by wearing a proper summer outfit.
We have listed a few tips that may help you prepare a summer wardrobe.
1. Remove The Clothes That Dont Fit You Anymore
You must thoroughly check all the summer clothes in your closet. If you find some dress that does not fit you anymore, remove them and think of donating or giving it o your friend or younger sister.
2. Remove The Clothes That Dont Suit You
You also need to remove clothes that do not suit your style. It includes the garments you have worn once or twice or clothes that are uncomfortable for you.
3. Check The Latest Trends
Before buying summer essentials from the market, you must check the latest fashion from social media, magazines, and fashion blogs. It will give you an idea about current summer fashion trends, and you can use this as a guide for buying summer essentials.
4. Make A Shopping Plan
You need to make a shopping plan before purchasing summer essentials. You can buy summer accessories or clothes from various online sites. But you cannot try those things before buying. Consider these things in mind before doing online shopping.
Additionally, list a few shops from which you will buy summer essentials and, accordingly, purchase them.   
5. Purchase New Summer Essentials
Start purchasing new summer essentials either online or from the market. But always focus on stylish, comfortable, and multipurpose summer essentials. For example, white T-shirts can be paired with jeans, pants, shorts, skirts, etc.
Another example is a two-strap sandal which will go well with any summer outfit. You can also comfortably walk for larger distances by wearing the two-strap sandal.
6. Purchase Versatile Items
Try to buy summer clothes which you can wear in multiple ways like a denim jacket or white T-shirt can be dressed according to the occasion.
7. Add Colors
Summer season is the best time to add colors to your closet. So purchase some colorful summer essentials that are light, comfortable, and will give you a stylish look.
8. Purchase Accessories
You need to purchase a few accessories like sandals, sunhat, and sunglasses that match the summer outfits. It will give you a stylish and modern look in summer.
Conclusion
Most women feel challenging to choose summer essentials. We have listed above some of the best summer essentials you can add to your wardrobe.
Always choose light and breathable clothes. Remember, synthetic attire are not breathable. So you can choose 100 percent linen, cotton, or silk attire.
Summer is the perfect time also to wear dresses. They are not meant only for special occasions. Wear dresses, shorts, and mini skirts to bear the summer heat. You can pair it with a few accessories to add a personal touch to your style.