100 Best Travel Instagram Bio and Captions for Influencers
Last Updated on 3 weeks by admin
Are you searching for the perfect Travel Instagram Bio to showcase your hobby? Your bio on Instagram is your chance to make a great first impression on anyone who visits your profile. With Instagram's growing popularity, influencers and content creators have an excellent chance to build a large audience.
In the journey from a visitor to your profile/page to becoming an organic follower, Bio plays a key role. Most people take a quick look at your bio and photos before deciding whether they should follow you or not. So in this post, we are here to help you select a perfect travel bio for Instagram account.
What is an Instagram Bio?
Now the question may arise What is an Instagram bio and what things you must keep in mind before selecting a perfect bio for your Instagram account? So in simple terms, a Bio is a small text that you add in the area under your name, which tells about you or your account.
MORE POSTS: 31 Must have Items for Traveling with Baby
How to Write a Perfect Traveller Bio for Instagram
So, here are some important Instagram Bio writing points that you should keep in mind about having a perfect travel Instagram bio.
1. Describe yourself
A good Instagram bio tends to describe the person well, in short words. You can add things like your job title, your company, etc. The key is to use short descriptive words.
2. Tell your Interests
As you know a visitor will pay attention to your travel Instagram bio just for a few seconds, so you have to connect with them in that time only. To do that you can mention your interests in your bio if the visitor has the same interests it may build a connection and follow you.
3. Add contact information
You seem to be a legitimate person when you share your contact details with your audience. You can give a short message like for business enquiries, email- [email protected]. Other than this you can even put some other social media platform details so that you get a shared audience on other platforms too.
4. Include a Link
Instagram gives you the option to add a single link in your bio. So if you are an influencer who has an online store, website, blog, etc. Then you can forward your Instagram audience to that, with the help of a single click. So this becomes a very important feature of Instagram.
5. Try some cool fonts
To catch the attention of the visitors to your bio, you can use some cool fonts. You can use different tools, to generate text in some awesome font and then paste it in your bio. Not only font but you can put different symbols and emojis too. Just remember not to overdo this thing.
So now that you are clear with what you need to do, let's jump on to some Travel Instagram Bio for Influencers.
MORE POSTS: Things to do in El Nido Palawan Philippines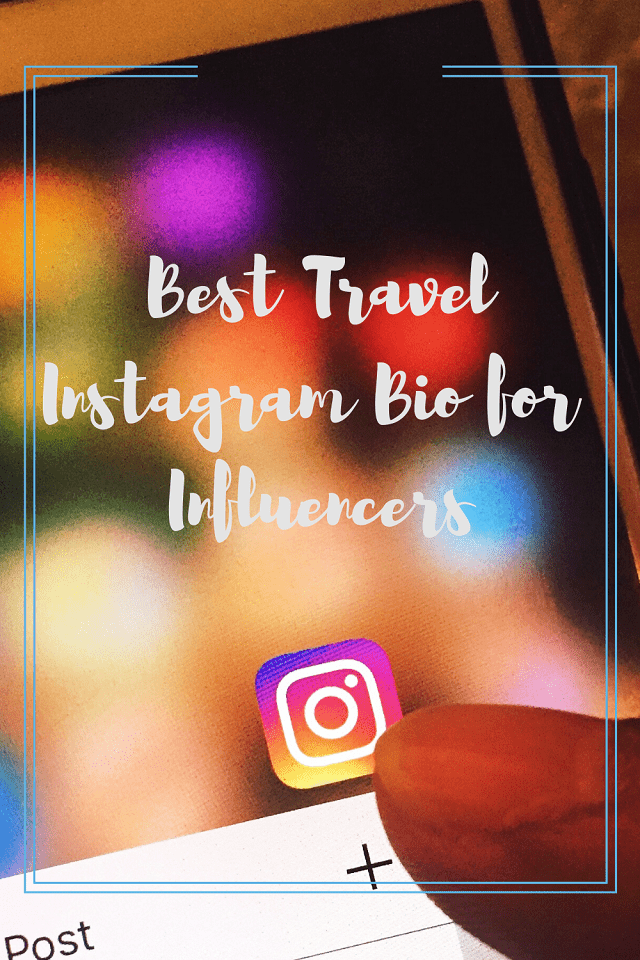 Best Instagram Bio and Captions for Travel Influencers
1. If traveling was free, then most probably you would never see me again.
2. People suffer from diseases, I suffer from wanderlust.
3. You don't take trips, trips take you.
4. Travel whenever you can, life is too short to think twice.
5. If you don't wanna be late, do what you love.
6. I don't ask for more, just 6 months of vacation twice a year.
7. Wonder less, Wander more.
8. Work hard, travel fast.
9. Travel is good for a peaceful soul.
10. I do believe it's the perfect time for another vigorous adventure of your life.
11. This life is pretty amazing, you need to stop and look around.
12. Travel not to escape life, but for life not to escape you.
13. A journey is best measured in memories rather than miles.
14. Let's wander where the wifi is weak and the network is low.
15. Take me anywhere and make me feel special.
16. Places you visit become a part of your personality somehow.
17. No matter Wherever you go, remember to go with all your heart.
18. You become free when there is nothing to lose, and a world to see.
19. I haven't been everywhere, but it's definitely on my list.
20. I keep on finding paradise wherever I go.
21. You should definitely try it when it scares you.
22. Memories will stay with you forever, tans will fade with time.
23. Don't be afraid to take chances, as losing is better than regret.
24. You don't need some magic trick or anywhere door to disappear, all you need is a strong desire to travel and a perfect destination.
25. If the world is a book, and you do not travel then you only read a page.
26. Life is your road and yours alone. Other people may walk it with you, but remember no one can walk it for you.
27. I am born to explore the world.
28. I have an insane calling to be where I'm not.
29. The destination you visit is never a place, but a new experience that is full of surprises.
30. Of all the books in the world, pages of a passport are my favorite.
31. You can't cure the Wanderlust.
32. I don't know where I'm going, but still I'm on my way.
33. Comfort zone makes you weak, Life begins at the end of your comfort zone.
34. When the sun sets, your feet should be tired, your hair messy, and your eyes sparkling with today's memories.
35. One life. One world. Explore it as much as you can.
36. where we have been defined So much of who we are.
37. I want to be there, where you are.
38. I'm in love with those cities where I've never been and people I've never met.
39. A strong desire to travel, to understand one's very existence.
40. Sometimes without getting lost, beautiful paths can't be discovered.
41. Travel far enough until you meet yourself.
42. Travelling isn't always about running away from things you hate but, sometimes it's about running into what you truly love.
43. Find a beautiful place, just to get lost.
44. Travel, because money returns with time but Time doesn't.
45. When the road is less traveled understand that it is less traveled for a reason.
46. If you have no fixed plans, and are not intent on arriving then you are a good traveler.
47. Stop being a tourist, and start being a traveler.
48. Of all the things you buy, only travel makes you richer.
49. Never keep a vacation waiting. It is bad manners to do that.
50. Travel is one of the best strategies for accumulating photographs and reliving them.
51. Keep calm and travel on.
52. It's hard to stay in a single place when there's so much beauty in the world to explore.
53. An adventure a day keeps the bad thoughts away.
54. Stop counting calories when you're on vacation.
55. Eventually you forget years and remember moments.
56. Let the adventure begin.
57. Up in the sky, I am on my way to an unknown destination and unknown experiences.
58. Always Ready for take off!
59. Travel while you're young and able before it's too late.
60. Explore the world. Start taking trains and planes to places you haven't been to before.
61. Travelling leaves you speechless, then turns you into a storyteller.
62. Travel as much as you can, wherever you can, and as long as you can. Life is too short to be lived in one place.
63. Things you need to do right now: Buy a ticket, pack a bag, catch a plane, and make new friends. Have a great time. Get lost.
64. Travel is the best teacher. The only way to have an open mind is by taking a plane out into the open world and never looking back.
65. Start exploring and One day, you will be at the place you always wanted to be.
66. You know what is Happiness, it is planning a trip to somewhere new.
67. Friends and family that travel together, stay together.
68. This heart of mine is craving to travel this world.
69. Excitement is looking down to your next destination stamp on your passport.
70. You want the best education, Start traveling.
71. Never stop exploring.
72. Try to make memories all over the world.
73. You should fill your life with experiences, not materialistic things. So that you have stories to tell, not stuff to show to the world.
74. Your good friend will listen to all your adventures but Your best friend will be in them with you.
75. If this life isn't making you happy, pack your bags now and get ready for an adventure right away.
76. It's not necessary that those who wander are lost.
77. Work may fill your pocket but Adventures fill your soul, so start exploring.
78. Travelling gets you educated in terms of life lessons.
79. Stop getting addicted to drugs, rather prefer traveling.
80. You love the place, which has been uncovered till now.
81. Travelling tells you how small a place you own in your life, thus making you modest.
82. Imagine your wake up alone in a strange town, it is one of the pleasantest feelings in the world.
83. Travelling makes you question your existence.
84. You wanna check your humanity and conversation skills, start traveling to unknown places.
85. Travelling tends to magnify all human emotions.
86. Once in a while it will really hit you hard that you don't have to experience the world in the way you have been told to.
87. Leave your footprints and take away the memories.
88. You want to be happy, start catching flights rather than feelings.
89. Start living your life by a compass, not the clock for making it awesome.
90. Time may be short but still plan for travel.
91. Stop treating travel as a reward for working because it's education for living.
92. Travel where you feel most alive.
93. Every journey will have a secret destination of which you will be unaware.
94. It's always the journey that excites us, the destination is short love.
95. The Best way to figure things out is to take a break in a beautiful place, alone.
96. I chose to get addicted to traveling.
97. If I can travel on my own, why can't you?
98. There is a lot more in this world than your 9 to 5 job.
99. The secret of a happy life is to own a little and see a lot.
100. You want a good listener, start traveling by road.
Conclusion:
I hope you found these Travel Instagram Bio ideas helpful and inspiring. Whether you're an avid traveler or just dreaming of your next adventure, these traveller bios can make your Instagram profile stand out and capture the essence of your wanderlust. So go ahead and use these ideas or get creative and come up with your own unique travel bio.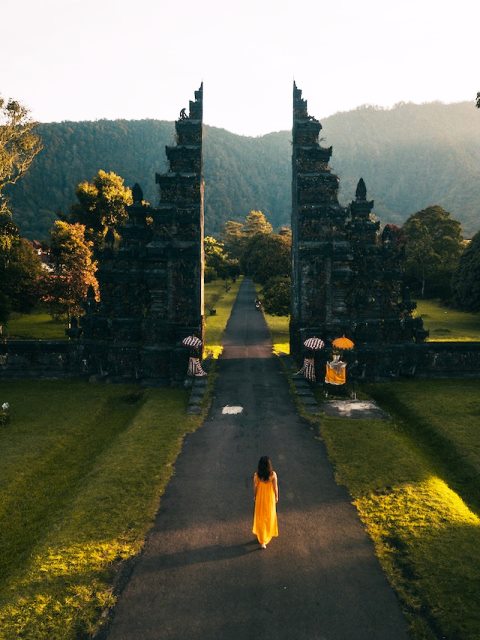 100 Best Travel Bio and Captions for Instagram
MORE POSTS:
Best botanical gardens in Europe
10 Best Places to Travel in March and April in the US